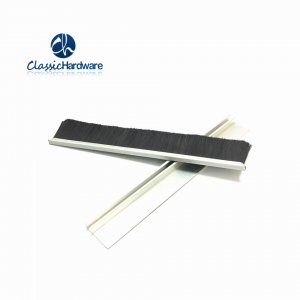 Sealing brush
Mainly applicable to: escalator industry, sanitation industry, cleaning brush, vacuum cleaner accessories. It also use to food machinery, CNC machine tools, ceramics, doors and Windows industry,  furniture industry.
And the usage for compacting dust, water, dust removal, cleaning, elastic pressure, polishing and so on.Sealing brush product introduction: the base material: stainless steel, electrolytic plate, galvanized sheet, low carbon steel plate, PVC plate, iron.
Generally,The base side height is 2.5 (small), 3, 4, 4.5, 5, 6, 7, 8, 10, 11, 18mm, etc.
The base specification record as: such as 2.5*2.5 (2.5mm thick *2.5mm high on the side) 8*11 (8mm thick *11mm high on the side).
Note: the specification can adjust according to requirements: brush length produce in customized as require.
Total length of brush: 20mm, 1000mm, 1200mm, 1500mm, 2000mm, 5000mm etc. (customized as required).
Specification and model of aluminum sleeve (non-current supply varieties produce according to the needs of mold).
Aluminum set is divided into: H type , T type.
Regular supply specifications: H: 15 mm, 20 mm, 23 mm, 25 mm… 80mm, etc.
Type F: 30mm right Angle, 35mm right Angle… 50mm right Angle etc.
Model T: 25mm in the middle.