Last article, we have introduce how to choose the pipe brush. Here we will introduce how to choose the seal brush.
There are some details same between seal brush and the pipe brush. That is filament material. The diameter of filament is decide the hardness of brush. So when confirm the diameter, you should confirm where does it used, for example, the door bottom, base on the height at 20-40 mm, we suggest the 0.2 mm filament is better. If for the machine machine, we suggest the 0.3-0.4 mm, that is harder, and can ensure the seal effect.
The seal brush have details different from the pipe brush. Please looking at the below drawing. As you see, the seal brush have a base detail. Usually we call it X and Y. Actually, this is easy to understand, this is the width and the height of the base. How to confirm it ? You just need to make sure it can fit the channel of your door or machine. If the unit length is 1 meter or longer, it may be smaller than the channel, about 1-2 mm.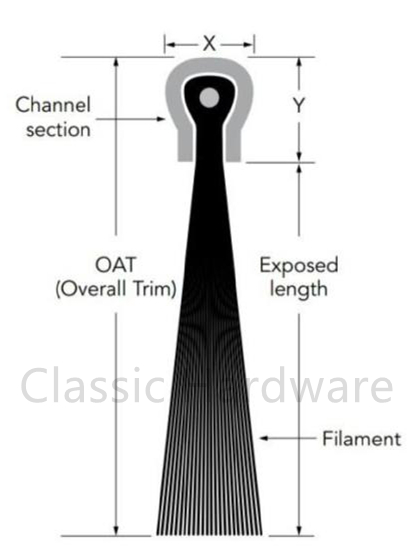 In many industry, the seal brush will used with the aluminum or plastic holder(channel) . There are many shape and size of channel. You just confirm it can help to install on your door or the machine, then give you a convenient, won't effect the brush working is perfect.
In Classic Hardware, we have several shape of channel for the seal brush. H type, F type, T type, Y type. All of them are made of aluminum. To let you know more clearly and confirm whether fit to you. I also attach the drawing.
At last, we need to confirm the height of brush. That is the most easiest point. The brush height is depend on the gap size, which need to be sealed. It means we just confirm that the brush can cover the gap.
If you have any requirement of seal brush, feel free to contact us. www.classicalbrush.com whatsapp/wechat: 13570532740